May 30, 2014 @ 9:35 AM
It's been almost two weeks since I've returned from my first trip to South Africa. It is always hard for me to process everything as it happens or shortly after, but once I get back in a routine I have the time to reflect on what I saw and experienced.
From the start it was going to be a different trip. It was the first trip that I was taking with my boyfriend. We've been places together but never actually travelled together as he lives in California and I live in Illinois and we usually just meet at the destination. Thinking back to the trip, I recommend Bill Murray's advice. We travel well together and I know it's a great sign for things to come.
I also did something that I don't usually do: I didn't really do any research of the destination. Yes, I looked through some guide books but mostly at the pictures and info about weather, money and food. I was going to Africa for the first time and I had no expectations! Once there I was like a kid on Christmas morning. Everything I saw was unexpected and never disappointed! Whenever I travel alone or with my children, I need to know ahead of time a lot more about the destination. This time, I was going with someone who grew up there and staying with locals. I loved it and totally embraced the opportunity!
So, when someone asks me "How was Africa?" this is what goes through my mind…
It's beautiful there!
It has everything I love about a place: the ocean, mountains, warm weather and great food! Cape Town is located between the Atlantic Ocean and Table Mountain. You travel towards Cape Point and you see the ocean on the right and mountains on the left. Palm trees along the road, white sandy beaches and a warm breeze in your hair.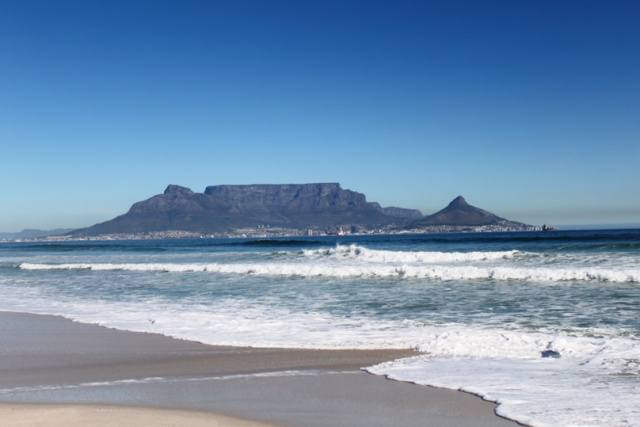 There is a lot of history.
It took a few mornings over coffee with Richard and his parents to learn about the English speaking whites, the Afrikaners, the coloured and the blacks. The Afrikaners are whites of Dutch descent that arrived first in South Africa. Then came the English speaking whites. They speak different languages, look the same and don't really like each other. The coloured are the mixed white and blacks. I am not sure what the coloured and blacks speak. There are a lot of dialects, Zulu and Xhosa being some of the ones I remember.
The food is amazing.
I tried to eat as many new foods as possible. And the culinary side did not disappoint. I was not surprised to find an infinite amount of seafood but the availability of other meats was very pleasant. There was delicious beef on every menu, pork, ox and a lot of game meat that I never heard of. One night I had Kudu, a beautiful looking type of antelope.
The weather is beautiful.
May is the beginning of winter in South Africa and most days we saw surfers on the ocean from morning to night. The water is cold but the sun is warm and the wind is great for surfing. I could see how people can live a very healthy life. The opportunity for outdoor activity is in abundance all year round.
I felt safe.
While I knew that whites are a minority, I never really felt it. I felt safe everywhere we went and all people we interacted with were very nice and well spoken. Of course, we used common sense and did not go looking for trouble but that goes for any place, including home. Nothing good happens after midnight no matter where you are.
During our entire stay, I think I saw about three white people working. Everywhere, every worker is black. I have learned that when two people apply for a job, one white and one black, it is the law for the black person to get the job. I found that very surprising and wondered how I could ever make a living there. One must have a job that is characteristic to whites I guess.
I really enjoyed my week spent in Cape Town. I loved meeting Richards parents and so enjoyed our time together talking about life in England during the war and their youth in South Africa. I could listen for hours to his dad's stories. Personally I was able to relax, learn a lot of new things and grow much closer to my boyfriend. It is a trip that set the stage for many more as now I know what to expect and what I want on my next adventure to Africa. The world just opened a new continent to me!